File folders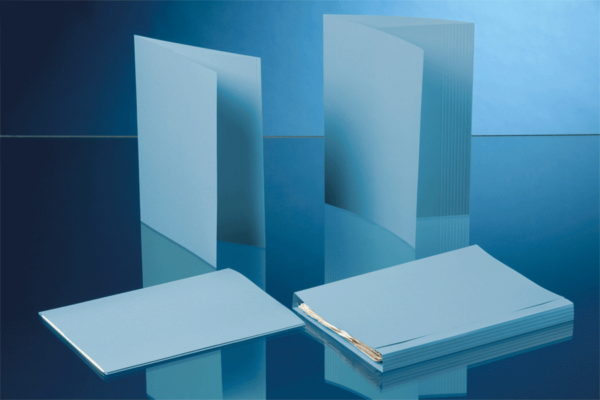 File folders can be used for flat storage of bundled or unbundled papers.
Offering optimal protection for papers without holes, suitable for folio/foolscap and DIN A4 formats.
Standard formats are chosen so that folders may be stored in archive boxes.

File envelopes for the formats DIN A1 and DIN A0 are also used for protected storage in plan cabinets or for subdivision within a graphic portfolio.

Made from all-in-one piece of cardboard, the corners are rounded.

Large-sized file folder DIN A0 - A3
Model M3 und M6 from 180 g/m² Archive Solid Cardboard, with right flap,

2 x tenfold grooved
Item-No.: 37598-M3
32 x 24 x 5 cm + 16 cm flap,
2 x tenfold grooved and 2 x foldet,
180 g/m² Archive Solid Cardboard in accordance with ISO 16245

from 0.79 € / Piece plus tax plus shipping
---
Item-No.: 37598-M6
35 x 24 x 5 cm + 16 cm flap,
2 x tenfold grooved and 2 x foldet,
180 g/m² Archive Solid Cardboard in accordance with ISO 16245

from 0.79 € / Piece plus tax plus shipping
---
Model M23 und M5 from 180 g/m² Archive Solid Cardboard, with right flap,
2 x twofold grooved

Item-No.: 37598-M23
31 x 23 x 0,5 cm + 14 cm flap,

2 x double grooved and 2 x foldet,
180 g/m² Archive Solid Cardboard in accordance with ISO 16245
from 0.79 € / Piece plus tax plus shipping
---
Item-No.: 37598-M5
35 x 23 x 0,5 cm + 14 cm flap,
2 x double grooved and 2 x foldet,
180 g/m² Archive Solid Cardboard in accordance with ISO 16245

from 0.79 € / Piece plus tax plus shipping
---